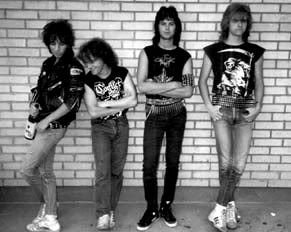 On this weeks show I played some local (St. John's Newfoundland) Hardcore from Are You Phobic, a bunch of Japanese stuff, and some ripping Black Metal.
Check it out.
Killing Joke-The gathering
Hidden Cameras-The international mma
Are You Phobic-Hand Job
Jet Boys-Wild Thunder
The Sexual-Messiah
Gauze-Kuchi o tozashi
Axegrinder-Grind the enemy
Blasphemy-Demoniac
Resuscitator-Servants of the darkest throne
Agathocles-Dethrone the tyrant
Wolves In The Throne room-The cleansing
Hellhound-hellhound
Slaver-Nuclear attack
S.M.D.-The devil makes me do it
Germ Attack-Direct action attack
Sarcasm-Crematory
Here's the
download link
.